Do your adventures call for a capable and tough ride? Have plenty of places to get out and experience near Mansfield, Norton, and Attleboro, Massachusetts? There are all sorts of occasions that call for a super-charged SUV, and the electric future makes your next vehicle even more exciting.
The 2022 GMC Hummer EV SUV gives you the exciting and capable experience that you need for your adventures. Our GMC Hummer EV SUV review explores the some of the features you have to look forward to in this all-electric ride. Join the team at Station Buick GMC as we get excited for this phenomenal performance SUV!
---
Hummer EV SUV Performance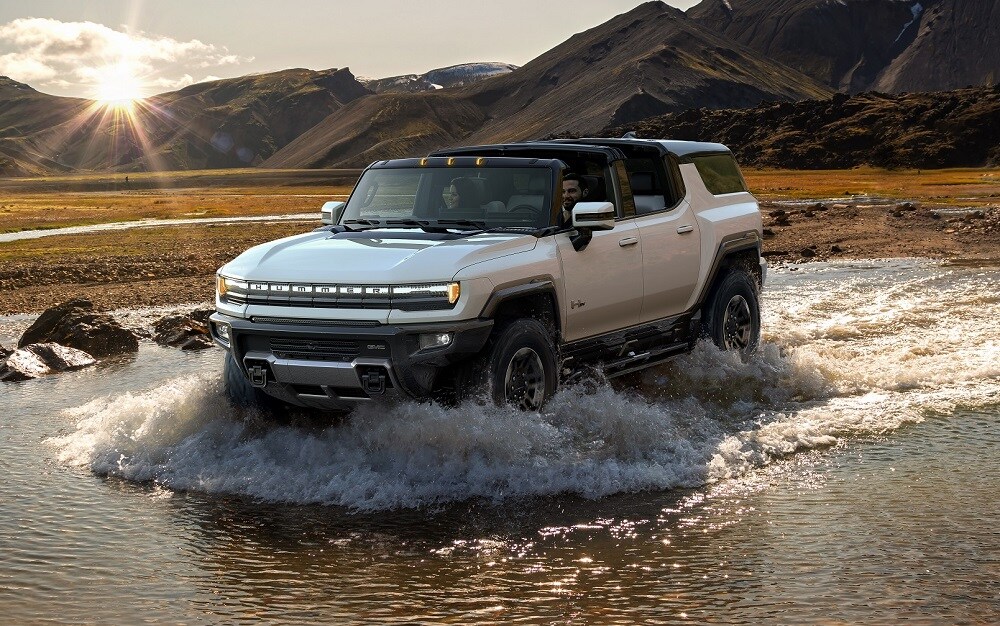 The engineering in this electric SUV enables it to conquer your demanding jobs with ease. The available 3-motor Ultium Drive system unleashes ferocious energy wherever you go. This system delivers an astonishing 830 horsepower and 11,500 lb-ft of torque, which can conquer numerous obstacles you have before you. This toughness lends itself to sheer strength as the Hummer EV SUV features a 0 to 60 MPH time of about 3.5 seconds.
The e4WD system is dynamic in its power delivery, letting you climb over rocks, dirt, mud, and other tough terrain. You'll get plenty of traction as you head off the road and go out into the world.
The Hummer EV SUV also uses its power efficiently to give you longer drives. When properly configured, you can enjoy up to 300 miles of range on a single charge of its battery. This lets you head out and enjoy what awaits in the world without having to seek out a charging station.
---
GMC Hummer EV SUV Technology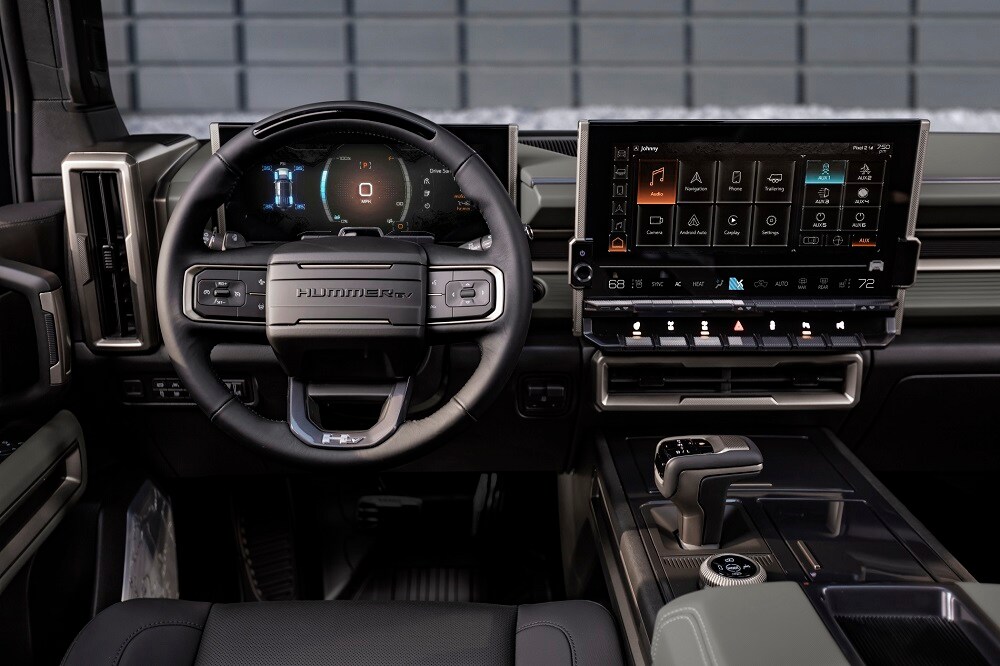 This is a fierce SUV that can dominate whatever area you find yourself in, and that performance is matched with intuitive and fun features. The infotainment system is controlled by a 13.4-inch screen that offers a large and easily glanced-at display of your important information. The 12.3-inch Driver Information Center lets you see your important information from the driver's seat.
The available UltraVision system uses 17 cameras to give you a complete surround view around your vehicle. It's convenient to know what's going on around your ride as you're out and about. This helps you see where traffic is on the highway and where obstacles are while you're out off the beaten path.
You'll always get the notification to charge, thanks to the in-vehicle energy app. This keeps track of your energy use and tracks how the battery is performing. It even assists in setting up charging schedules, so you can stay prepared for your next ride.
---
Hummer EV SUV Spaciousness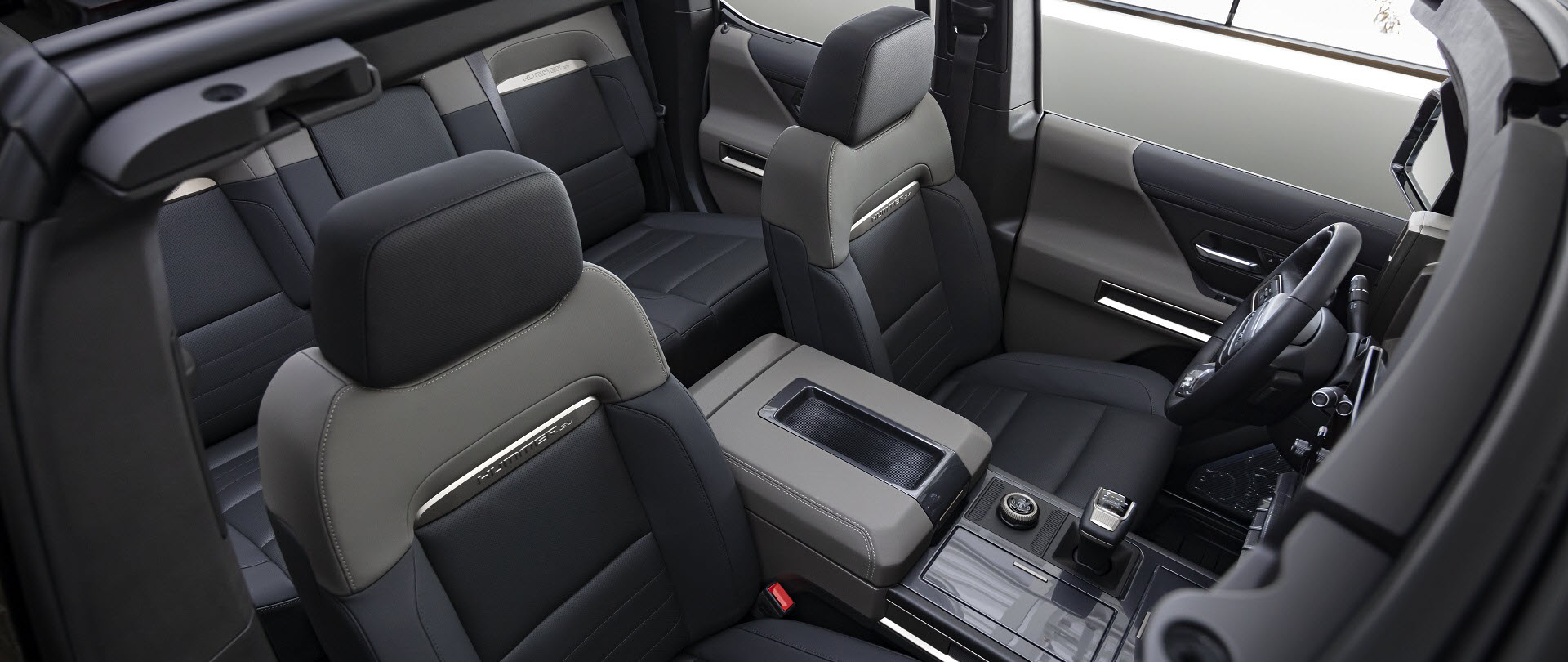 The 5-seat cabin provides plenty of space for passengers. If you find yourself needing more room for cargo, though, it's easy to fold down the rear row. The Hummer EV SUV gives you up to 81.8 cubic feet of cargo space, in addition hidden compartments in the floor and side. This lets you pack away all your essentials before embarking on your next grand journey.
---
Experience the GMC Hummer EV SUV Today
There are plenty of adventures waiting for you out near Mansfield, Norton, and Attleboro, MA, and the 2022 GMC Hummer EV SUV lets you dominate the path to them. Contact the team at Station Buick GMC and schedule your Hummer EV SUV test drive today!